ACU SPORTS COMMITTEE ORGANIZES NOVELTY MATCH FOR OUTGOING BURSAR, PRESENTS DONATED TROPHIES TO THE VICE-CHANCELLOR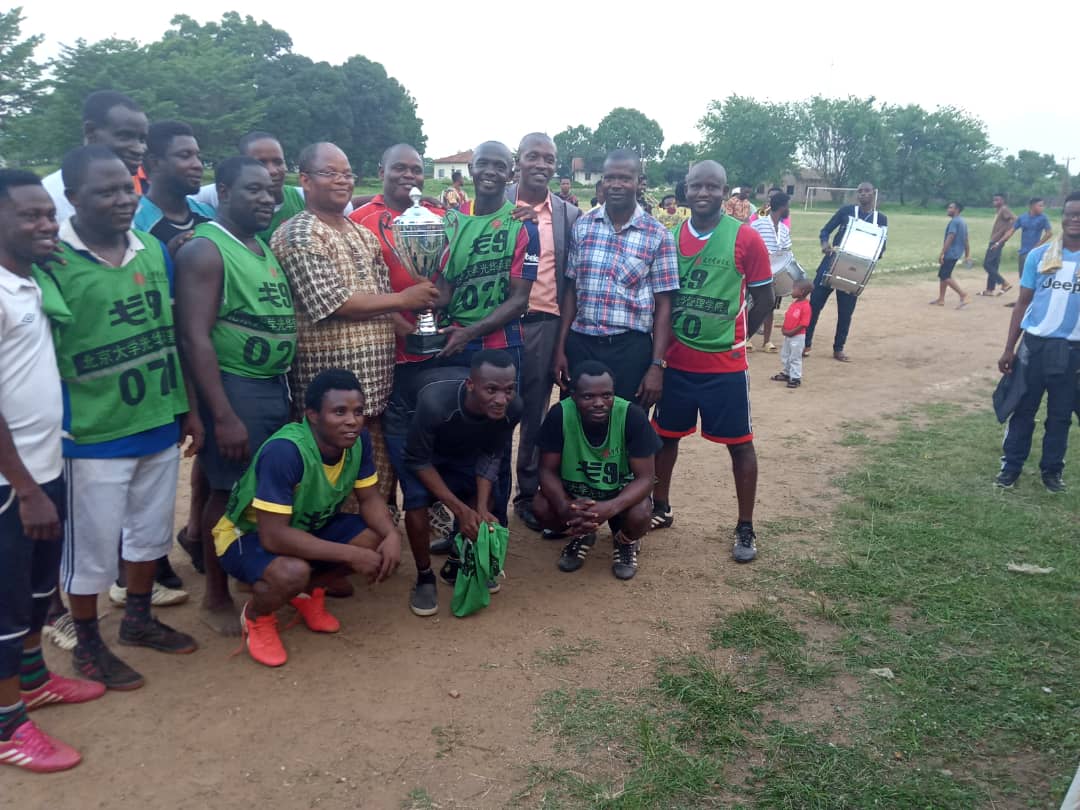 A novelty football match was played last Thursday at the Sports Pavilion of Ajayi Crowther University, Oyo, in honour of the out-going Bursar, Pastor Samson Olojede. The Match, which was organized by the University Sports Committee, saw teaching staff trading tackles with non-teaching staff. The game ended in favour of the non-teaching staff. They won with one goal after the match was decided through a penalty shootout because it ended goalless at full time. The Vice-Chancellor, Professor Timothy Adebayo, Principal Officers, some Deans, staff, and students watched the game.
Before the match started, Professor A.P. Agbonjinmi, Chairman of the University Sports Committee, told the Vice-Chancellor that some trophies had been donated by some past and present members of staff of the University for Various Sports Competitions amongst students. He said the Committee approached the donors who responded positively to its request. Dr. Paul Amalu, member of the Sports Committee, presented the trophies to the Vice-Chancellor, and told him that the following trophies had been donated for the University:
Two trophies, one each for Male Soccer and Male Table Tennis donated by the Vice-Chancellor
Trophy for Male Basketball donated by Pastor Samson Olojede
Trophy for Female Soccer donated by Dr. Mrs. Beatrice Fabunmi
Trophy for Male Marathon donated by Professor Joel Ayodabo
Trophy for Female Marathon donated by Professor Muyiwa Popoola
Trophy for Female Basketball donated by Mrs Adenike Fatogun
Trophy for Female Table Tennis donated by Dr. Mrs. Josephine Oyebanji
Soccer Jersey donated by ACUSA
Basket Ball Jersey donated by Major Tai Olukoju
The sports Committee also donated some sports equipment. The Committee appealed for more facilities and announced that students of Ajayi Crowther University would soon host their counterparts from another University in a soccer game.