AJAYI CROWTHER UNIVERSITY SIGNS MOU WITH TRINITY SCHOOL OF MUSIC, IBADAN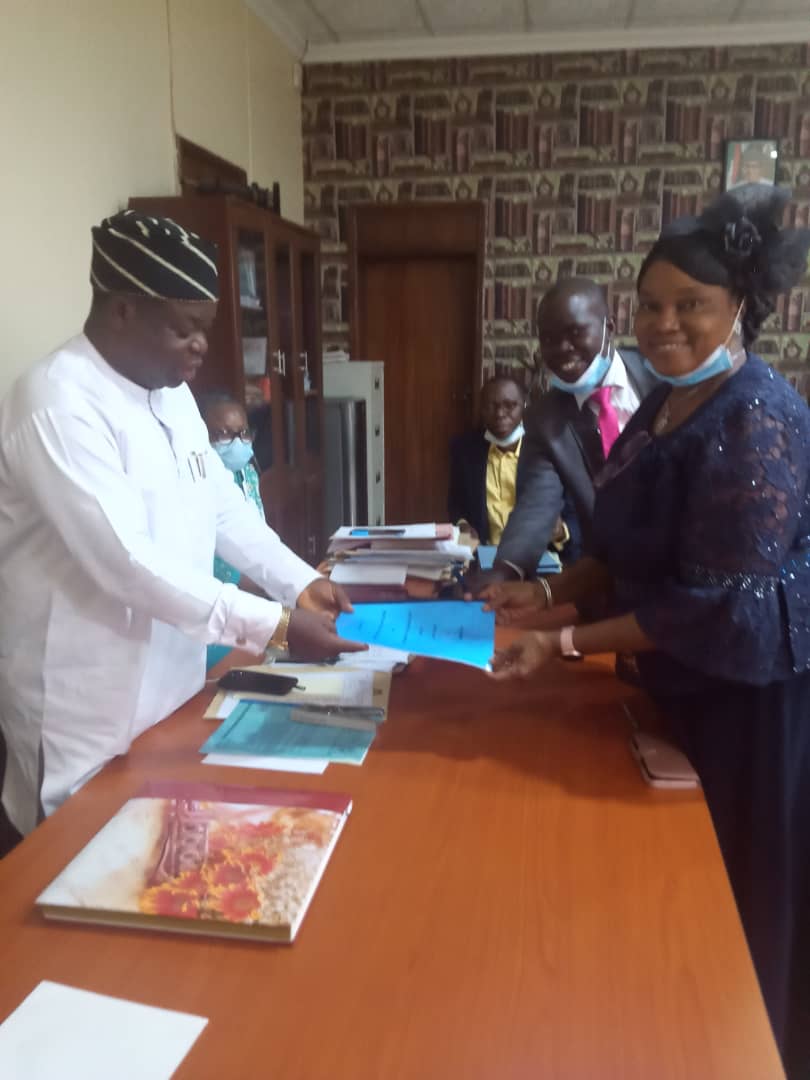 Ajayi Crowther University, Oyo, last Friday 17th September 2021, signed a Memorandum of Understanding with the Trinity Institute of Music, Ibadan. By that document, the Department of Performing Arts and Music in the Faculty of Humanities of Ajayi Crowther University will oversee the academic programmes of the Institute leading to the award of Diploma in Music as applicable.
The event, which took place in the University, was presided over by the Vice-Chancellor, Professor Timothy Adebayo. The Vice-Chancellor used the occasion to trace the history of the University and its precursor-St. Andrew's Teachers College founded by the Church of Nigeria (Anglican Communion). He stated that the University's collaboration with the institute would help use music to propagate the gospel. He was delighted that the Proprietor of the school, Evangelist Toun Soetan, who is a renowned gospel musician who has made great impact in gospel music, has decided to train younger people in the art by partnering with the University.
Evangelist Soetan, in her response, appreciated the University for finding the institute worthy to run its curriculum with specialization in Christian music. She stated that her vision is to bring God back to the people through music. She promised that the Institute will do its best to keep up the high standards that is the hallmark of Ajayi Crowther University. The Ceremony was attended by the Registrar of the Institute Pastor Tayo Adeleke, Pastor Sago Oyewole (Admission Officer), and Miss Nonye Nwankwo (Admin. Officer).
After the speech-making, Vice-Chancellor and Registrar, Dr. J.E.T. Babatola, signed the memorandum on behalf of the University while Evangelist Soetan and the institute's Registrar signed for the institute. Top staff of the University present at the event were the Bursar, Mr. John Olusanwo (FCA), the Librarian, Dr. Mrs. Beatrice Fabunmi, Dean, Faculty of Humanities, Most Rev. Prof. George Lasebikan, Academic Affairs Officer, Mr. Isaac Akhanolu, and University Legal Officer, Mr. Gbenga Atere.