"HOW NIGERIA CAN OVERCOME POVERTY" …ACU VC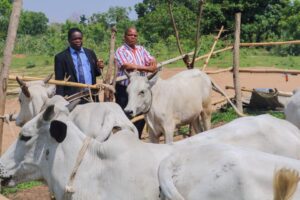 Ajayi Crowther University's (ACU) Vice-Chancellor, Prof. Timothy Abiodun Adebayo has asserted that "Nigeria has no reason to be poor if the leadership could look inwards and creatively convert the abundant God's given assets to our own advantages"
According to the agriculturist turned university administrator, "with abundance of arable land, abundance of rainfall, beautiful forest and vegetation, fauna and flora, animal husbandry among others, what is the relationship between Nigeria and poverty? We only need to be serious in converting all these natural resources into our own advantages"
Speaking while inspecting the agricultural efforts of the university in Oyo, Prof. Adebayo pointed out that "part of being serious as a nation desirous of overcoming poverty is to quickly stop the incessant herders-farmers clashes and adopt a modern method of grazing, invest heavily in agriculture, stop importation of food we can produce locally and vigorously fight corruption and indiscipline"
"When we encourage our teeming youth to see agriculture as a solution to this ravaging poverty and hunger, when we decide to invest in the value chains of agricultural produce with quality packaging and marketing, we would have succeeded in banishing away poverty from our land", he added.
His words: "I keep wondering why we are dying of hunger. This is a country where we can feed ourselves producing major crops like beans, rice, sesame, cashew nuts, cassava, cocoa, groundnuts, palm kernels, palm oil, soya beans among others. But we abandoned all these because of oil. Now, oil is fast becoming irrelevant. It is high time we went back to farm"
To drive home his points, Prof. Adebayo cited Ajayi Crowther University's efforts, saying, "we have started  producing honey for sale apart from the acres of cassava which will soon be due for harvest"
He hinted that the farm already had a fishery, just as it has marked out some acres, in Ofa Meta campus, where it would plant pineapples and our animal rearing efforts are beautifully looking up.
The ACU VC advised government and the populace to go back to the land, pointing out that if Nigerians could till the land, the land would smile back with abundance of harvest.
Accompanying the VC was the University's Bursar, Mr. Samson Olojede.