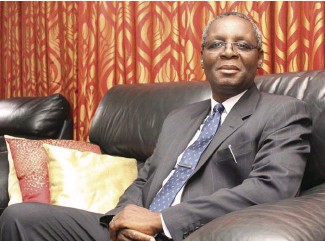 ONADEKO, FORMER DIRECTOR OF LAW SCHOOL AND OKWEZUZU, APPOINTED PROFESSORS OF LAW AT AJAYI CROWTHER UNIVERSITY, OYO.
The Governing Council of Ajayi Crowther University, Oyo,  under the chairmanship of legal icon, Chief Wole Olanipekun (SAN), has approved the appointment of   Olanrewaju  Onadeko (SAN), former Director-General, Council for Legal Education , as a Professor of Law in the University. The Council also appointed Gaius Okwezuzu as professor of law. Their appointments were sequel to their successful performance at interviews as well as favourable assessment of their academic publications.
A press release issued from the office of the Vice-Chancellor, Rt. Reverend Professor Dapo Asaju, stated that the appointments takes effect from Friday August 7, 2020. Professor Olanrewaju Onadeko (SAN) comes with an experience spanning over four decades in teaching and practice of Law. He had been    Director-General and Deputy Director-General of the Nigerian Law School in Abuja and Lagos respectively. He had also held positions as Secretary of the Council of Legal Education.  Asaju said Onadeko's appointment will bring the highly sought after mix of theory and practice to the benefit of students in the law Faculty of the University. Onadeko, an expert in Law of Evidence, Criminal Law and Civil Procedure, has also worked as State prosecutor in Ogun and Cross River States, as well as Director of Prosecution in Banjul, The Gambia.
Onadeko attended University of Ife, Ile-Ife (now Obafemi Awolowo University) and University of London. He has written several academic papers and attended no less than 40 conferences.
The Vice-Chancellor has approved that Prof. Olanrewaju Onadeko (SAN) would deliver his Inaugural Lecture on Thursday, September 10, 2020.
The second appointee, Rev, Canon Professor Gaius Okwezuzu, had been a pioneer lecturer in the Faculty of Law and risen to becoming an associate Professor, prior to his recent appointment as Professor. He graduated from the University of Benin and Delta State University, Abraka. He had lectured at the Benson Idahosa University, and had written many academic papers. He has also presented papers in International conferences.  Okwezuzu, a Reverend Canon in Church of Nigeria (Anglican Communion) is an experienced lecturer who brings a needed combination of academics and spirituality in his handling of students.